BojanKrkic has fallen down in the pecking order at Stoke City
Posted by

content

on Friday, 28 October 2016
BojanKrkic is a player that was being hyped up since the start of his career as he actually made his first-team debut at a younger age that even Lionel Messi as Krkic made his debut when he was 17 years and 19 days old.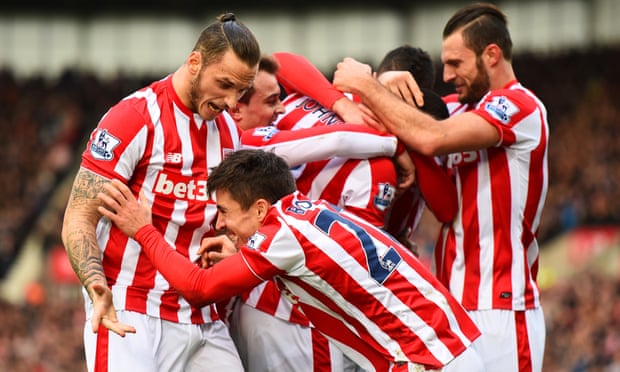 He eventually went on to make over 100 appearances with Barcelona but could never really impress and was eventually released to other clubs on loan deals and any of the clubs opted to retain him on a permanent deal.
As.Roma and Ac.Milan had the chance to sign BojanKrkic on a permanent deal but they did not choose to do it as Bojan simply didn't impress enough during his loan stay in both clubs.
He is now performing with the Premier League side Stoke City and even though he had a fairly successful time in his 2 opening seasons, the Spanish player is barely getting playing time on the pitch.
In the 2nd season of BojanKrkic as a player of Stoke City, he made 27 league appearances and scored 7 goals which is not really an impressive ratio but taking into consideration that in the same season of 2015-16, Marko Arnautovic was the top goal-scorer of that campaign with 11 goals, the 2nd top goal-scorer was BojanKrkic as he came close with 7 goals.
In that season Stoke City scored a total of 41 goals and just between BojanKrkic and Marko Arnautovic they scored almost half of the squads' entirety of that season which is fairly impressive.

Unfortunately for Bojan, he has been spending more time on the sidelines as this current season of 2016-17, the Spanish player has only been getting a few minutes of playing on particular matches.
Things have not been going any better for BojanKrkic in the international scene as he is not a regular starter for Spain either and the player himself voiced his intention to switch national sides as he has recently attempted to switch nationality and represent Serbia which is the country of birth of his father but this change of nationalities was rejected by FIFA as the football governing body only allows for players to transfer their national allegiance when they have not participated in a competitive game for their initial country.
Bojan did make an appearance for Spain back in 2008 in a World Cup qualifier against Armenia and because of this, he is not eligible to make a switch to Serbia as he is attempting to start getting playing time in any way possible but it isn't working out for him.